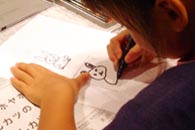 Participant drawing a rabbit on a slide while referring to a draft.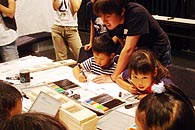 Staff instructed participants in a friendly way. They were interested in the work others did.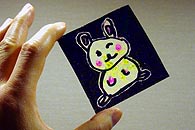 Finished slide of a rabbit.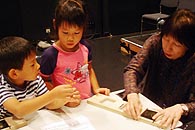 Anchoring the slides in the "Taneita."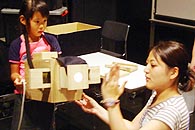 Staff explaining how to operate the "Furo."
■ Learning more about "Nishiki Kage-e"
We are eager to report on the workshop that was held in Osaka during the summer of 2009.
About 20 people ranging from age 4 to adults in their 50s took part. We started off with a brief explanation of "Nishiki Kage-e" so that everyone knew how it worked.
Then, we began making actual "Taneita" (slide carriers) to use in performances. The participants were divided into groups to make slides for a short scenario entitled "Aruhi no Kusahara no Dobutsu-tachi" (a special day for the animals of the savannah). Everyone had fun, each in his/her own way painting animals like giraffes and lions, the thickly growing grass and starlit skies. They applied the colors to the vinyl chloride plate while referring to their drafts. Each person made several slides.
Once completed, the slides were anchored inside the "Taneita" and inserted into the "Furo." Everyone was nervous. The project staff showed the participants how to operate the "Furo." It's light, so even small children can do it without trouble.
As soon as they were ready, the lights were turned off and the groups took turns presenting their shows. Keeping pace with the narration read by a project staff, everyone was busy moving the animals, bringing out the grass and lighting up the stars, but even though they were behind the screen, they could hear the cheers of the audience. They were amazed to see the animals, grass and stars they had just painted moving about lively and so large on the screen.
It was a short presentation of a short story, but fun nevertheless. One adult commented that it was like being a kid again and was glad to have participated. Another participant took the slides home and made a special illuminated stand for them.
This particular day everyone got to know more about "Nishiki Kage-e" and had fun being creative.