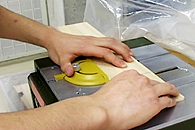 Making a "Furo" (projector) and "Taneita" (slide carrier) from paulownia wood.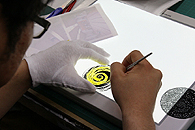 Making slides.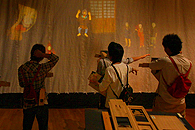 Operation of the "Furo" projector (at the rear side of the screen).
■ Resurrecting "Nishiki Kage-e"
The Nishiki Kage-e Ikeda-Gumi started in 2004 by restoring the "Furo" (wooden slide projector) and "Taneita" (slide carrier). With limited information available on the structure and fabrication methods, the restoration was a long process of trial and error which also required much imagination.
Every effort was made to faithfully replicate the "Furo" as it originally was, but it was difficult to ascertain the exact dimensions. Procuring paulownia wood was another difficulty. The slides and light sources have not been restored; we use modern-day materials and supplies for reasons of safety.
Furthermore, we work to improve its potential as an artistic and theatrical device. For example, we made additions to the "Taneita" tricks that dramatize the movement of pictures as well as to the light source system, which we have made portable.
As for the stories, we create new ones every year. They can transmit the charm of the old "Nishiki Kage-e" that people both young and old can enjoy.   "Nishiki Kage-e" by Ikeda-Gumi is not simply a restored classic art but a new form of modern art that can appeal to us all for its high creativity.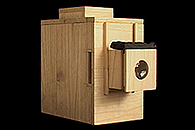 "Furo" projector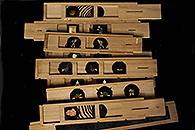 "Taneita" slide carrier
■ About the "Furo"
A "Furo" is basically held by the front face and operated by a single person. The main parts are made of paulownia wood because it is lightweight, sturdy and heat resistant. The light source is set inside, while there is a hole on the front for the projection lens, the black curtain that covers it and inserting the "Taneita."
■ Shows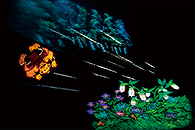 ■ Konpaku Ayashikatari (2016)
A master sees a woman offering inari sushi and rice wine to the Inari shrine on top of a hill. The Master eats the sushi and drinks the rice wine server.... This is the work which reorganized "Kokon Tensho no Kotowari".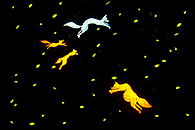 ■ Kokon Tensho no Kotowari (2016)
Two travelers, a Master and his Servant, see a woman offering inari sushi and rice wine to the Inari shrine on top of a hill. Against the Servant's advice, the Master eats the sushi and drinks the rice wine server. It hits the head of a Fox taking a nap, and the Fox falls down to the ground... Human life is within the cycle of all creation. We will perform this mysterious process in this Nishiki Kage-e: "The Law of Reincarnation of an Old Fox."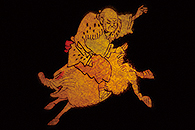 ■ Ikeda no Shishikai (2014)
A man is making his way to a hunter in search of wild boar meat. Being in haste, he causes a fracas with everyone he encounters along the way but eventually arrives at the home of the hunter. Luckily, the two come across a wild boar in the woods, but the hunter cannot take aim with his rifle because the man makes incessant requests.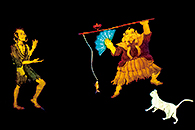 ■ Kyokugoma (Short story,2014)
Along the banks of the Sanzuno Kawa River that divides this world from the next, two men named Nanashi and Shiroku knock over a pile of stones that a child, in the company of a white cat, has built as a gesture of repose for the souls of those who have passed away. Wanting to restore the weeping child to good spirits, the two men perform some tricks with a spinning top, and humor unfolds.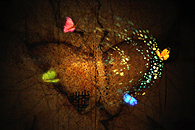 ■ Haruoboro Hanakarakurini Kabekugurutowa (2012)
A child with a white cat is piling up the stones for the repose of souls. Two men named Nanashi and Shiroku had once cherished a woman who committed suicide with her lover… A story about the living and the souls of two people as they cross a mysterious world between life and death.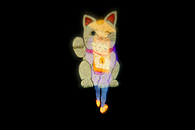 ■ Jinaimachi Atarikyōgen Hotarumichi (2011)
Kiroku and Sēhachi are slightly odd characters in that they like squeezing through narrow places. One day, walking ahead of them is a seller of lucky charms such as beckoning cats. They squeeze through the trees as if they are attracted by the beckoning cat. Then, a dim hole appears before them.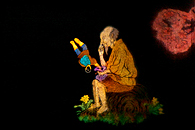 ■ Sakurashiranami Hyoitobukuro (2010)
A burglar broke into an empty house. But the objects in the house all turn to ghosts and goblins. The burglar is utterly shocked and flees to a riverbank where an old man is sitting quietly. Then, an inexplicable magical world begins…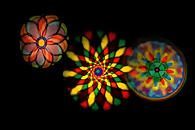 ■ Karinsha (Sketch, 2009)
"Karinsha" is a short piece featuring three brightly colored spinning flowers that together a beautiful fantasy world. Viewers will immediately notice the splendid colors and animation produced by "Nishiki Kage-e".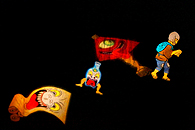 ■ Tsuitenaihi (Short story, 2009)
Once upon a time there was an unlucky bugler. In the last house he was robbing that day, he found an umbrella, drapes and a pot, but they all were actually ghosts. Seeing their true appearance, the bugler was alarmed and fled. The ghosts simply chuckled and frolicked.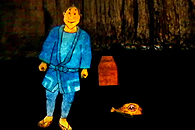 ■ Hotarumichi (2009)
Kiroku and Sēhachi live in the same terraced house and the share a similar strange penchant for squeezing through narrow spaces. One day, they meet with an unexpected disaster. It must be the work of a fishy-looking merchant with a beckoning cat on his back. The man passes every day in front of their terraced house selling good luck charms.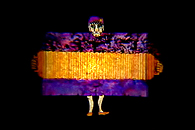 ■ Gurun-gurun (2008)
One day, an office worker cuts through a nearby park on the way to work. All of a sudden a whirling wind blows and several strange men and animals appear and make fun of him. Then a strong wind sweeps him up in the air. That is his fate.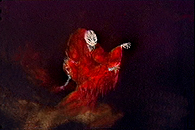 ■ Nekoyasha (2007)
One day, a blind man by the name of Sōta decides to take in an odd cat that follows him home in the rain. The cat then turns into a woman and Sōta wishes to see her face. Suddenly he can see, but what he sees is the Reaper, who has granted his wish in exchange for his life.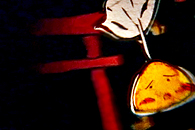 ■ Popotan (2006)
Tanta and Poporo are dandelion seeds on a journey together, but they argue incessantly all the way. Through various encounters and experiences, they come to know each other and reconcile. Finally they come to a boundary between a Red Country and a Blue Country, both of which are ravaged by war. There they become friends with the people of both lands.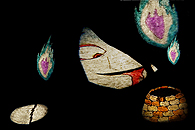 ■ Banchō Sarayashiki (2005)
Kiku is a young maid in service to the samurai Tetsuzan Aoyama, but refuses to be his mistress. He gets angry and kills her for incorrectly counting the number of plates. He throws her body down into a well. Later, Tetsuzan becomes deeply haunted by her ghost that appears every night at the well counting plates. The story was based on "Banshū Sara-yashiki" from "Ningyō-jōruri" ("Joruri" done with puppets).